Summer Hours:
Monday – Thursday 8am – 5pm
Friday 8am -1pm
Your trusted advisor that provides the services that remove the stress and hassles of minding your own business.
VanderLugt, Mulder, DeVries and Elders CPA
At VMDE, we are your most reliable and respected resource for accounting, business planning and tax compliance needs.  Serving clients in a variety of ways, we have someone here who is the right fit for you.  We take a vested interest in getting to know you and understanding your needs, objectives, and long-term goals. After all, it's not only about numbers. It's about building a personal relationship and celebrating in your success stories.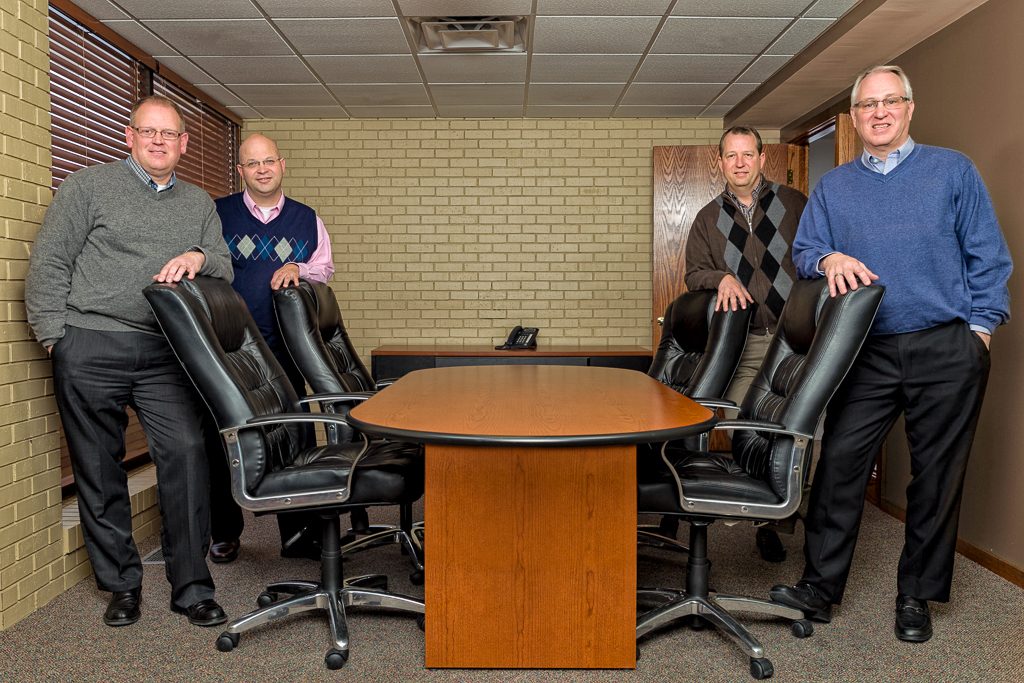 From left to right: Randy VanderLugt, Jeff Elders, Mike DeVries and Jeff Mulder
"I felt more secure with Mr. Mulder's work. He asked pertinent questions about our business, did relevant research regarding peculiarities of our operation, and gave clear, concise explanations in understandable language. He keeps it simple with no fluff or fillers... I also take comfort in the way he pre-emptively calls for periodic reviews to make sure that our estimates are on track – he is able to extract valuable information from these reviews which have not only helped with tax planning, but also with operating the business most efficiently."
"Jeff Elders along with the team at VMDE have provided the support I have needed for the past 17 years. Since 2001 Jeff Elders has been an integral part of Grand Rapids Auto Auction and its many related companies. The services I have utilized include strategic planning including acquisition and disposition of some of our entities In addition to payroll services along with financial budgeting and forecasting. I would recommend Jeff Elders and VMDE to anyone I know."
"VMDE has processed our company payroll for over 20 years. They are very knowledgeable in all payroll related fringe benefits, both pre-tax and post-tax. And we never run into trouble with payroll tax issues; they handle all monthly, quarterly, and yearend tax reporting and we don't receive those nasty I.R.S. letters that other companies get. I.R.S. penalties? Never - VMDE keeps us out of trouble with the government."
"The VanderLugt, Mulder, DeVries and Elders accounting team are efficient and professional in all their work. Our experience with them has endured for over many years. They know our business needs and exceed our expectations. They get back to us with answers that are accurate and appropriate for our business relationship. They take a personal interest in our business and also are very easy to work with and thorough. They have a great accounting team!"
"There are many reasons that we would recommend Jeff Mulder of VMDE, but the one that stands out for us is his knowledge and expertise. Any time we have questions, he is available with answers to help us make the best decision."
"As always - a great big 'Thank You'! Your service means a ton to our family."
"As a small business, Jeff Mulder at VMDE has helped me by providing common sense advice and tax management strategies. It is hard to build a business and deal with rules and regulations which seem counterproductive to success. Jeff has worked with me to put a quarterly tax plan in place, provided timely financial advice, and enabled me to protect my business interests. I appreciate that he is available for discussions through-out the year to counsel me as concerns arise."
"I have known Jeff Mulder for many years since he is the accountant for my employer. During this time I have found Jeff and VanderLugt, Mulder, DeVries & Elders to be very helpful, dependable, knowledgeable and trustworthy. In fact, I was so impressed by his abilities that I have him handle my personal taxes and tax questions."
"Jeff is a highly skilled and professional CPA. He provides good value for his services and is very prompt in responding to inquiries. I have recommended him to clients in the past and will continue to do so. I highly recommend Jeff as a CPA."
"After trying out several accountants, I am so glad to of found Jeff Elders. He gives me confidence that everything is done properly. He is always available to answer any questions, and answers them in a way I can understand. His attention to detail and assistance is greatly appreciated. I am happy to recommend him to others, because I know that they'll be just as happy as I am."